A new phpList version is available, introducing several improvements and fixes. The reason why this took a little longer than the usual amount of time between new releases is because with Pull Request #763 a new release process is introduced. With the new release flow more tasks are automated making the process of releasing phpList a little smoother.
v3.6.3 includes security fixes as well, and it is advised to upgrade if you are running an older version.
You can get a copy of version 3.6.3 from the Download page or SourceForge.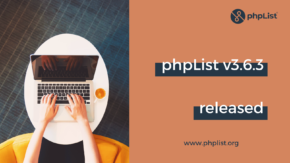 Changes to look for in this release
New features
Don't add an entry about being removed from lists to the user history. In order to avoid cluttering the user history, no entry about being removed from lists to the user history when unsubscribing will be added. Have a look at PR #756 submitted by Duncan.
Improvements
Localizations
The latest translations that were made on Weblate are now included! Also, more strings have been added in English and you can start translating them! Have a look at PR #764 for the full list of changes.
More plugins
In this release candidate you will notice 5 additional plugins that are included upon installation. The additional plugins are:
Community-made
This release is the work of Duncan Cameron and other Open Source community members who have submitted Pull Requests, bug reports and valuable feedback, as well as phpList Ltd. developers. To get involved in phpList development, check out the developer resources pages.
Report any issues you find with phpList 4 core or REST API  to the corresponding repo on GitHub. Please read the contribution guide on how to contribute to these modules.
Support
Need help upgrading your phpList server to the newest version? Ask the community at discuss.phplist.org. Professional support from community experts, as well as manuals, source code, and developer resources, can be found at phplist.org. Report all bugs to the phpList3 GitHub repository.
Want to focus on campaigns and forget hosting headaches? Sign up at phplist.com for an account with everything included. Send from 300 free messages to 30 million messages per month — simple.