phpList.com has today launched a plugin system, with an initial bundle of six plugins.
"This launch represents another important milestone for our fast-growing phpList.com service" Says Michiel Dethmers, CEO of phpList "and we have many more exiting new developments in the pipeline."
Flexibility with simplicity
For those who wish to enjoy the benefits of Open Source without the complications of self-hosting, for example ensuring their own deliverability, phpList.com is an ideal solution. The new plugins system brings more of the flexibility which self-hosting users enjoy, in addition to the other benefits of the phpList.com service. It removes barriers for those who wish to switch from self-hosting to phplist.com.
"This new system is going to make a real difference to small and lean organisations" says Anna Morris, phpList Community Manager "those stuck with out-of-date phpList 2 installations and no tech support are slowly transitioning to phpList.com. This is another good reason for them to take that step and really experience all that phpList has to offer."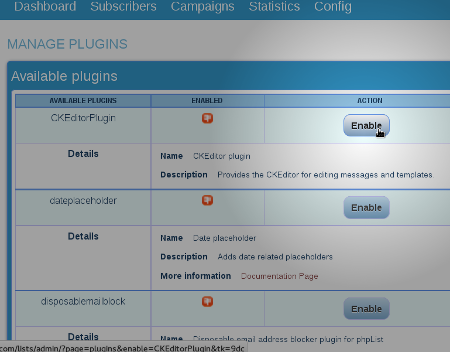 Six of the best
The plugins which have been selected for the initial release are:
Invite Plugin
Disposable Mail Block Plugin
Subject Line Placeholders
CKEditor
FCKEditor
Date Placeholder Plugin
No editor
In addition to a choice of editor plugins, phplist.com users can turn off the WYSIWYG completely, for html only composition without any interference from the editor. This will be especially welcome to advanced users.

Plugins in phpList
The number of plugins available for phpList software has been growing for a long time, however, since the launch of phpList 3.0.0 in 2013, plugins have been given a more prominent role in the software. A list of current plugins can be found on our plugins page and a guide to using plugins can be found in our manual. phpList plugins should be published under a GPL3+ or AGPL3+ license.
Why and how to develop a plugin
If you want to tweak phpList to make it suit your needs more perfectly, then a plugin is a great way to do that. Unlike changes to the core code, a plugin will not be overwritten when you update your phpList. Plugins can also be shared with other people easily. You could pay an expert to make a plugin for you, or you could develop your own by following the steps described on our Developers Home Page.