Our first documentation writing sprint was a big success: we had a great time and got a lot of work done… the perfect combination!
What we did
The sprint started at 8am GMT on the Friday the 10th, when people started to gather in the IRC.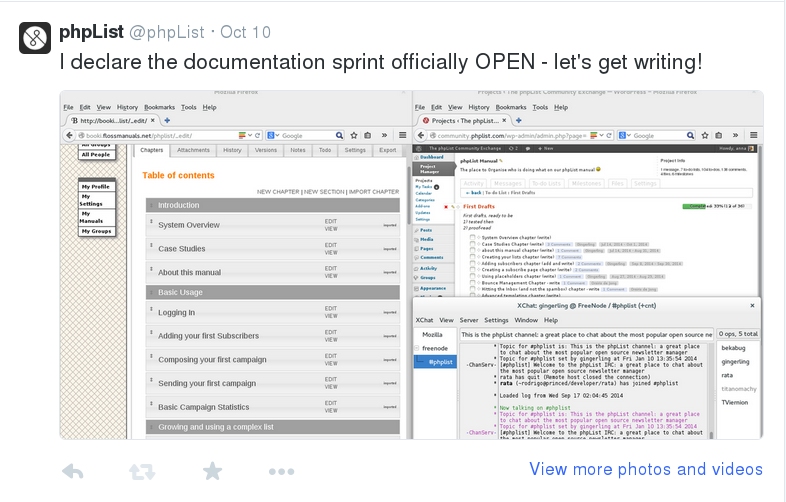 Anna, the phpList Community manager, was the first to arrive, and she turned up in her Koala onesie…
People choose tasks to do, and we chatted and worked together, mostly remotely, but later in the afternoon Anna and David met up together as they live near-by.
We bantered by twitter,  mostly about coffee (Anna's head exploding tweet was particularly enjoyed)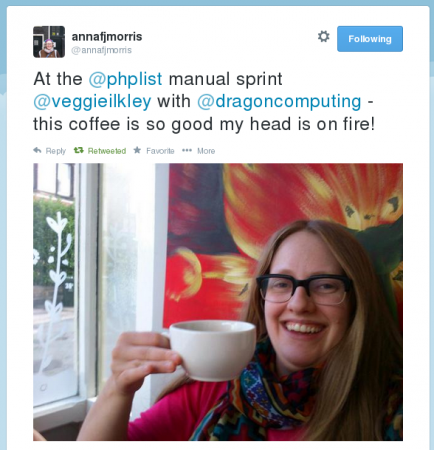 And Ozzy's big mug was also a hit!
By the end of the second day, we were really ploughing through the work, with test after test being run. We finished the sprint at 9pm GMT on the 11th.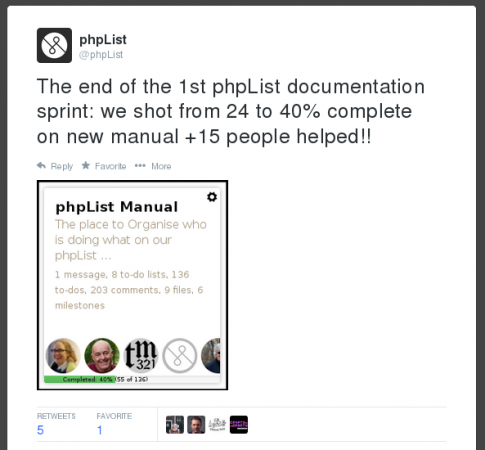 Work didn't really stop right away, there has been a slow-but-steady stream of progress since
What we achieved
We doubled the number of completed tasks
We finished four chapters from start to finish
We  completed 14 test-uses on finished chapters to see how easy they are to follow
We submitted 7 new bug reports/feature suggestions to improve phpList
We had a good time!
Who was involved
There were lot's of people involved in the sprint, doing many different tasks, all of which were vital to the success of the sprint.
The writers were;  Veki, Alexberendi, DanWaterloo, Deajan (ozzy), Dragonrider (David) and Gingerling (Anna).
The "testers" were: Tolfsen (Andreas), Clorith, Bjornbalazs, Titano, Mwastling, Sirromeoj, Charlizegirl, Natogreendog, Actexcellence.
The promoters were;
@andreasosso, @MarcoDelaMora @hktang @soullivaneuh @lschneider4 @moderndayfreak @samtuke @Sourcefabric @Vitexus @luuuciano and Lester Montilla Duran.
Let's have a big, digital round of applause for them all!
What next?
There are still loads of things to do before the manual is ready for proofing and publication.
More chapters…
We have 20 chapters assigned, but still not finished, and we have the following three chapters with no author yet:
Advanced templating chapter (write)
WordPress Chapter (write)
Drupal Chapter (write)
More testing…
We also have nearly 60 tests still to run.
"Testing" chapters is where someone (who did not write the chapter) reads through the instructions with a beginners eye, following them carefully and checking for discrepancies or confusing points.
Some of these tests take only 5 or 10 minutes, but they are really vital tasks too! If you want to test a chapter, email anna@phplist.com
When will the manual be ready?
Currently, the aim is to publish the manual at the start of December. There is a lot still to do before that point. Let me know if you can help!