phpList 3.3.6 is now available to install, and introduces public categorisation of lists to subscribe pages, several fixes, and minor improvements.
See the Download page for installation and upgrade instructions.
Changes in this release
Public categorisation of lists
A new option to show lists organised by categories on subscribe pages. Categories from the existing  list categorisation system can now be shown on public pages, making it easier for subscribers to navigate between lists grouped by theme. Categorised lists are shown within an accordion interface element using a responsive two column design.
Thanks to CPS-IT for proposing and sponsoring this feature.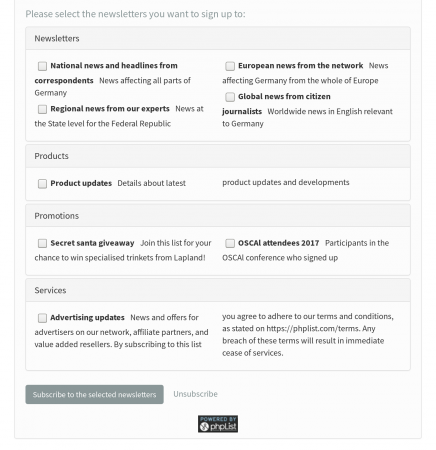 Public categorisation can be enabled system wide, or for individual subscribe pages only. The setting is off by default.
Fixes
Some plugins were automatically disabled after upgrading to release 3.3.5. To prevent this, plugin dependency checking has been moved — thanks to Duncan, see the pull request,
Fix "Add a list" button on import pages;
Check if a domain is available for use by the Terms of Service subscriber attribute and if so use to generate the link to terms. If not, link to the domain index;
Fix incorrect link on "Reconcile the subscriber database";
Fix incorrect name on hover for the "View bounces per campaign";
Change label from "Views" to "Unique Views" on "View Opens" page;
Better warning message when bounce no longer exists yet bounce ID is listed;
Provide error message when a subscribe page accessed via Ajax doesn't exist — thanks to Michael, see the pull request.
Other
Check and don't remove useful anchor links (https://www.exameple.com/#anchor) when converting RSS template from HTML to text — thanks to Daniel, see the pull request;
Disable X-Mailer Header set by PHP Mailer library — thanks to Daniel, see the pull request;
Add https when checking if the text linked is a repetition of the URL — thanks to Daniel, see the pull request;
Remove non-standard Bounces-To header — thanks to Daniel , see the pull request;
Add missing IDs on form elements for WCAG compliance  — thanks to Philip, see the pull request;
Added code of conduct for contributors to phplist3 repo — see the pull request;
Add link to source code of phpList from the about page.
Community-made
This release is the work of Duncan Cameron, Philip Day, Michael Altfield, Daniel Aleksandersen and other Open Source community members, as well as phpList Ltd. developers.
To get involved in phpList development, check out the developer resources  pages.
Support
Need help upgrading your phpList server to the newest version? Ask the community at discuss.phplist.org. Professional support from community experts, as well as manuals, source code, and developer resources, can be found at phplist.org. Report all bugs to the bugtracker!
Want to focus on campaigns and forget hosting headaches? Sign up at phplist.com for an account with everything included. Send from 300 free messages to 30 million messages per month — simple.