We have teamed up with User Prompt to learn more about you – our phpList users. In a first step we ask you to participate in a small survey.
phpList is Open Source Software
phpList is Open Source software: it is built by a community of users, developers, translators, documenters and many more. Some in the community contribute on behalf of a larger organisations,  while others contribute as individuals.
Good communication between all these people and groups is essential to constantly improve the software, but this can be difficult to achieve.
"We have formed a partnership with User Prompt to improve communication within the phpList community, specifically to help us better see phpList though the eyes of it's users" says Anna, the phpList Community Manager "We will do this, not through the occasional chat over tea and cake, though we are very partial to that too, but through serious data collection, analysis and benchmarking."
"We want guide the development of the project in an open way" said Michiel Dethmers, CEO of phpList Ltd "User Prompt will help us to achieve this."
Working with User Prompt
User Prompt provides Psychological IT Expertise and focuses on working with Free and Open Source Software projects and companies. They specialise in user-project communication and optimising user experience by working with users.
With the support of User Prompt, we want to improve the user perceived quality of phpList even more. To make it more enjoyable for you to send your campaigns.
"I am delighted to be working with phpList" said Björn from User Prompt "phpList already is a strong software and we are more than happy to help making it a flagship for user involved open source development."
Help us to learn more about you
Please participate in a short survey about how and why you use phpList to help us improve phpList further.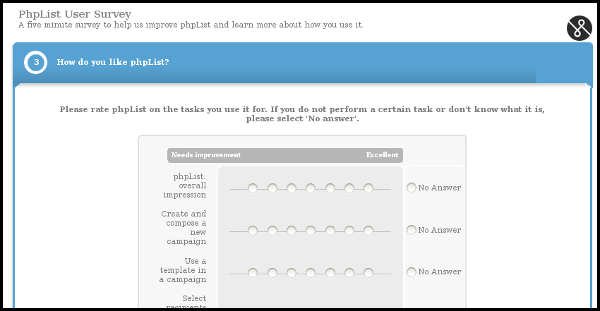 The phpList development community wants to better understand
who phpList users are
what they do with phpList
what they like about the software
and what they would like to change about it
As a first step a short (~5 minutes) survey has been set up. Based on your answers, we can better focus our future development work on the areas that are most important to you, the phpList user. We will of course blog about the results. Stay tuned!
Start the survey here.