It is important for phpList to be fully functional and up to date with the latest technologies that will equip the software with some of the most popular functionalities an email marketing platform must have.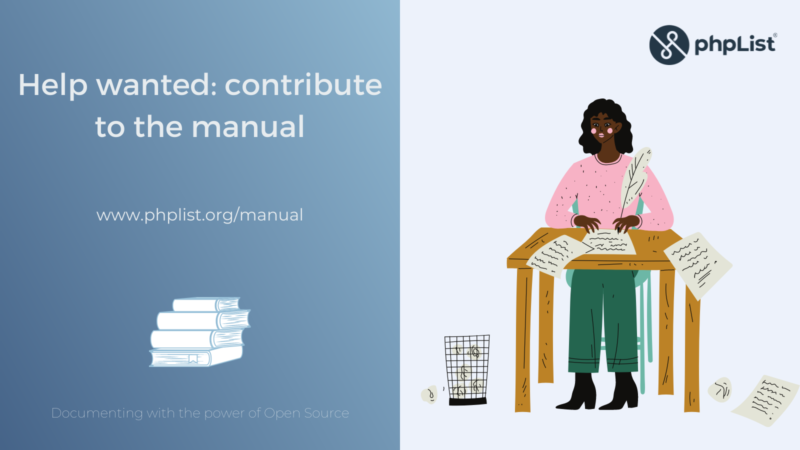 A key-element into getting the best experience of phpList is managing to use its full potential or discover that one "not so popular feature" that makes the difference for you. This is where the user manual comes to the rescue. The manual is a collective effort to gather information and give example on how some of the most common phpList features are used.
If you are an experienced phpList user, you are the best candidate to edit end enrich the manual with more useful information.
How you contribute to the manual:
Add or update a chapter of the manual about a functionality you are very familiar with;
Add or update screenshots of phpList;
Proofread the text that is already there;
Report content that should not be there.
Create an account
In order to start editing the manual, you must have an account and the proper privileges to do so. In order to prevent spam users and spam content, the default privileges of new users are not sufficient to allow them to edit or add new content.
Once you create your account, let the rest of the community know that you wish to change something. You should create a new topic at the community forum under the "Documentation" category where you suggest a new edit and someone from the Admin group will grant Editor privileges.
Going through this process ensures that the content within the manual is qualitative and not corrupted by spammers.
Documenting with the power of Open Source
The phpList manual lives at https://www.phplist.org/manual/ and is a BookStack self-hosted installation. BookStack is an open source, community-driven platform for organizing and storing information. We'd like to thank everyone for making this great software available for free and invite you to the BookStack GitHub repository!