phpList 3.3.8 is now available to install, and introduces a redesigned dashboard, one other feature, and six minor improvements.
See the Download page for installation and upgrade instructions.
Changes in this release
Re-designed Dashboard
This release includes a New Dashboard that is redesigned to conveniently summarise campaign statistics, as well as connects you directly to the manual chapters that can help you get started. The plan is to add more widgets to the dashboard in future, adding summaries of other frequently used statistics.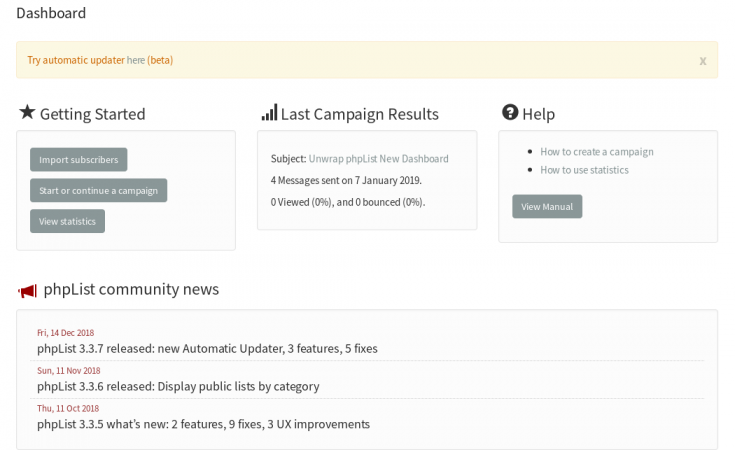 Features and Usability Changes
Add an option to config file to disable the updater and its notifications — see the pull request.
Change the number of "recently visited" pages from 6 to 3.
Link the phpList logo on the Updater page to the phpList admin dashboard.
Add autofocus to the email field of the login page.
Fixes
Command line signature is displayed twice — thanks to Duncan, see the pull request.
Fix MySQL formatted dates that always have the month in English to make them use the selected interface language — thanks to Duncan, see the pull request.
Fix saving a new template with the same name: this no longer shows a success message when saving in fact failed
Community-made
This release is the work of Duncan Cameron, Philip Day, Michael Altfield, Daniel Aleksandersen and other Open Source community members, as well as phpList Ltd. developers.
To get involved in phpList development, check out the developer resources pages.
Support
Need help upgrading your phpList server to the newest version? Ask the community at discuss.phplist.org Professional support from community experts, as well as manuals, source code, and developer resources, can be found at phplist.org. Report all bugs to the bugtracker!
Want to focus on campaigns and forget hosting headaches? Sign up at phplist.com for an account with everything included. Send from 300 free messages to 30 million messages per month — simple.